February 11, 2011
Large Image of Veterans Recognition Plaza Committee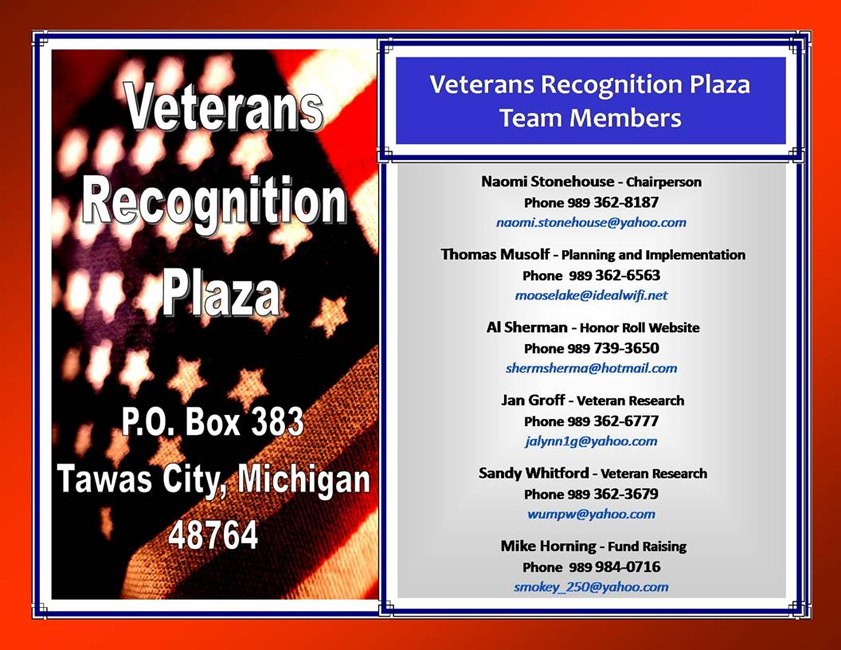 July 7, 2008- Tawas City Manager Mark Moers stated before the Tawas City Council Meeting that Mayor Duane Walters and he had been working on different concepts for the Veteran Memorial for the Downtown Redevelopment Project. They both felt that a committee should be created to brainstorm what the memorial would look like and who is to be listed on the plaque(s). Mayor Walters and the Council would like to have Naomi Stonehouse to head up a Committee.
On August 13, 2008 the first meeting of the committee took place at the Tawas City public library. During this meeting it was decided that the members would focus on two major objectives:
" Establish a physical monument for wartime veterans located in the Plaza.
" Establish an Honor Roll for wartime veterans located on the Internet.
Regular scheduled Committee meetings are at 6pm at the 2nd and 4th Thurdsday of each month, at the Buckhorn Inn 483 W M-55, Tawas Township, 989-362-5612

The public is encouraged to attend any of our meetings. Team driven talents and capabilities are needed to bring forward project enhancements and motivations that will support our veterans in the most respectable and honorable way.